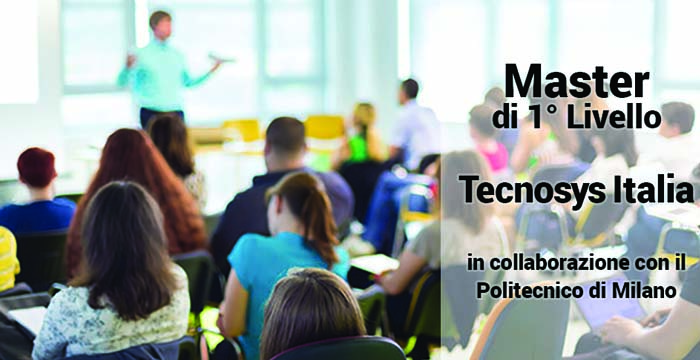 Tecnosys Italia Srl, a leading company in Enna in Italy in the production of software in the Property & Facility Management, Workflow Management and in the management of Local Police Commands, together with the Politecnico di Milano creates new opportunities for professional and occupational growth for young graduates.
The company opens the selections, to young recent graduates residing or domiciled in Lombardy, for two 1st level Masters entirely financed by the Lombardy Region.
Participants not only will not have to incur any expenses, but they will be hired by the company with a high apprenticeship contract.
Tecnosys Italia, which in recent years has exponentially increased its customer base, opening new offices in Catania, Pavia and Milan and wishing to invest in new resources and training, has decided to continue focusing on young people.
During one of the last meetings that the software house organized with young graduates, the President, Tonino Palma, declared: "Young people are our future and today more than ever we need to give them more space and the possibility to grow and emerge. Ours is a highly innovative and competitive sector and it is precisely for this reason that my partners, Carmelo and Alessandro, and I have focused on consolidating collaborative relationships with the best Italian universities. A month ago we started two specialization courses in Enna for new graduates in Economics and Computer Engineering from Kore, now we are starting this collaboration with the Milan Polytechnic for two Masters, initiatives that allow young people who intend to invest in the development of skills, to launch highly qualified training courses, aimed at job placement in our offices".
Those who participate in this new initiative, launched with the Politecnico di Milano, will have the opportunity to obtain the Master's degree and at the same time be hired with an Apprenticeship contract in Higher Education (Article 45 of Legislative Decree 81/2015) , will therefore have access to training external to the company (classroom teaching) and internal to the company. Young recent graduates must be aged 29 years and 364 days and meet certain requirements which can be viewed on the company website. The contract will have a maximum duration of 36 months.
The selections currently open and which will close on March 20, 2017 concern:
1st Level Master in Development of Innovative Software Products II edition: provided by CEFRIEL in collaboration with MIP and Politecnico di Milano. Start date March 28, 2017.
1st Level Master in Management for digital innovation 1st edition provided by MIP in collaboration with CEFRIEL and the Politecnico di Milano. Start date March 31, 2017.
Click here for more information.