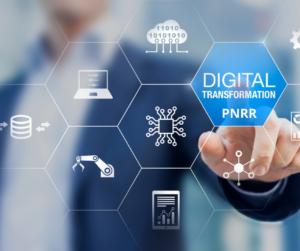 Tecnosys Italia Srl, a leading company in the sector of IT solutions for the Public Administration, offers Apps and cloud solutions that respond to the lines of intervention envisaged by the PNRR (National Resilience Recovery Plan) on Digitalisation and Innovation, improving the digital experience of citizens and the usability of digital public services. In particular, it offers the following products:
– Città Plus: an App download able from the Play Store and App Store, designed to facilitate Citizens' access to the services made available by the Public Administration offices. Specifically it allows you to:
• Manage requests and initiate procedures made available by the organisation

• Report in real time, with position detection, faults, anomalies, accidents, etc

• Consult documents and practices

• Book appointments at the offices, based on availability and the service requested • Can be integrated into management systems already in use by the organisation
– Protocol: a software that allows you to automatically record, classify and archive all documents entering and leaving the Public Administration, ensuring traceability and compliance with current legislation.
– Documents Management: a system that facilitates the drafting, approval and publication of Administrative Documents, such as resolutions, determinations, ordinances, etc., reducing times and errors.
– Chips: integrated platform for local, municipal and provincial police commands, for the complete management of the sanctioning process. It allows you to manage and process information relating to infringements of the Highway Code and the so-called extra-CdS, centralize data, measure the performance of the Command, distribute the work allowing the outsourcing of one or more processing phases thus reducing the need for the presence of Agents in back-office activities.
– Digital notifications: the solution allows you to manage report notifications and is also integrated with the main external databases such as the motorist portal, integration with the PagoPA system, the AppIO for sending reports. In this way, citizens will be able to access the notified document directly from their device by receiving a message informing them of the presence, on the national digital notification platform, of a report against them with the possibility of making the payment online.
– Real Estate: the solution allows all public and private residential construction organizations and companies to plan and manage their real estate assets in an integrated way. In particular, it allows you to manage leasing, sales, drafting, printing and registration of contracts; the determination of fees, collection and control of arrears, ordinary and extraordinary maintenance.
If you are interested in learning more about our solutions, we will be happy to provide all the necessary information and offer personalized advice.